My Top 5 iPhone/iPod Touch games.
Posted by Jakob95
Jul 7
There are lots of games in the app store. But most of them are either bad or you get bored of the game and never click on the app after you launched it the first one. But there are some games that will keep you addicted and some that are just really fun to play with. Here are my favorite 5 iPhone/iPod Touch games.
Game 5:Doodle Jump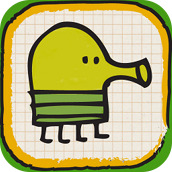 This game is one of the most addicting games in the app store. In this game you control your Doodler by moving your iPod with tilt controls and your mission is to jump on the platforms and not to fall. The game is really addicting because you will always want to beat your high score that you had.
Game 4: FS5 Hockey


This game is also pretty fun its air hockey for the iPhone. Its fun to just play it wherever you go and is also multiplayer. For the multiplayer mode you only need 1 iPhone/Ipod Touch. Its also great to play this game whenever you are bored and listen to music while you are playing.
Game 3: Tap Tap Revenge 3


Love music? Then this game is just for you. This game is sorta like Guitar Hero but for the iPod Touch and iPhone. On the screen there is 3 buttons and you have to press them when the light goes to them like in Guitar Hero. The game also features online so you can post your scores online, the game also features its own music store so you can buy songs and then play them in Tap Tap. This game is also free!
Game 2: Brick Breaker 3D


Who doesn't love brick breaker? This game is for the iPhone and it has new impressive 3D graphics and everything is shiny. There are lots of items in the game and the controls are really nice for the iPhone.
Game 1: Angry Birds


My favorite game in the appstore. Angry birds has over 120 levels. The point of the game is that evil pigs stole the birds eggs. Now you have to take the birds and launch them from a slingshot in a suicidal attempt to take the lives of as many pigs as possible. In every level there are always obstacles in your way and you have to find a way to overcome them. This game is really fun and it doesn't gets boring fast because every level in the game is unique. I recommend buying this game because I had a great time playing this game and I think this is the best game in the app store for me.
Related Posts: